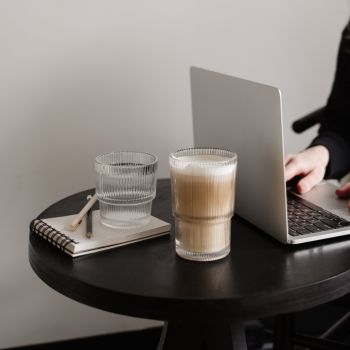 Are you making website mistakes that are easy to avoid, but are hurting your ability to connect with and convert dream clients? You could be, and you might not even know it! But, take a deep breath; because the good news is that fixing these mistakes doesn't have to be complicated.
In this post, I'll be sharing four of the biggest website mistakes that business owners make when writing their own website copy. I'll also give you my professional tips on how you can avoid these mistakes, or fix them if you're currently making them.
Spoiler alert: we're not going to focus on surface-level copy adjustments that could easily be fixed (like, say, by an AI-powered robot). Instead, we're going to focus on the mistakes that happen before the writing process even begins.
These mistakes can make your life and business a lot more complicated than they need to be. But don't worry - I've got you covered! Let's dive in and make sure your website is working for you, not against you.
If you prefer to listen than read, be sure to check out the podcast episode below.
Mistake 1: Overthinking It
When it comes to copywriting, we all fall into the trap of overthinking from time to time (myself included). I see plenty of online entrepreneurs who get stuck in decision paralysis, obsessing over details, and almost micromanaging their own work, leaving them feeling overwhelmed and frustrated by the copywriting process.
Sometimes when you're DIYing your copy, it's hard to get in the right headspace. You end up spending forever writing, only to want to throw the whole thing in the garbage and start over when you're done.
What this really comes down to is mindset. If you go into the copywriting process second-guessing yourself, you're much more likely to spiral from there and end up endlessly editing and tweaking your work.
The truth is, though, most online entrepreneurs (yourself included) already have the skills and information they need to write successful website copy. The key is to trust yourself and your abilities as an authority on your business.
You don't have to be a professional copywriter to create effective website copy — and putting undue pressure on yourself only leads to overthinking and hindering your progress.
If you want to help ease that burden and take the overwhelm out of the process, you can invest in copy templates, take a website copywriting course (especially one that helps with your mindset), or even ask a copywriter to review what you've written.
Mistake 2: Starting with design
I see a lot of business owners start the website process by hiring a designer or finding a design template that they like, even before they start writing their copy — and this is a big website mistake to avoid!
While it's so important that your website's design reflect your brand, starting the website creation process by writing your copy first can make a world of difference in terms of how effective your website will actually be.
It's important to keep this in mind when considering website design templates. Even if a template looks beautiful and on-brand, trying to fit your copy into the template's layout can put constraints on your messaging and prevent you from effectively connecting with and converting your dream clients.
Instead, start by writing your copy first. This way, you can focus on your messaging, positioning, and the customer journey, using your copy to guide the layout and flow of your website.
At the end of the day, a beautiful website is great, but if it doesn't simplify your sales process and connect with your dream clients, it's not doing its job.
Mistake 3: Throwing something together
Now, this isn't really a mistake. I'm a big supporter of messy, imperfect action. If throwing something scrappy together is what it takes for you to finally give your business an online home, then go for it!
The real website mistake to avoid, though, is not circling back to fix your copy as your business pivots and grows. Check out my post on updating your website content for more details on this.
Instead, make revisiting your website copy a regular ritual in your business. Especially anytime you pivot in your business or niche, make sure that your website copy comes with you.
One of the most useful things you can do is figure out how people are navigating your website, and look for ways to make that easier. I love to use Hotjar's heatmap and screen recording tools to do this (affiliate link). But, you can also ask clients if it was easy to find the information that they were looking for, or if there was anything you could have made clearer.
Mistake 4: Writing without any pre-work
I saved the best for last! One of the biggest mistakes I see online entrepreneurs make when it comes to writing website copy is jumping straight into writing without doing any market research or messaging work beforehand.
When you skip this important pre-work, you might find yourself struggling with writer's block and creating copy that doesn't resonate with or convert your ideal clients.
To avoid this, it's important to take the time to really get to know your audience on a deeper level before you start writing your copy. This way, you won't have to make assumptions about what will capture their attention and what information will be most valuable to them.
This is a big reason why I have a full website copywriting course, instead of just offering website copy templates. There's important pre-work that needs to happen to make sure you write copy that's targeted, effective, and speaks directly to your dream clients.
Remember: as with most things in business, investing a little extra time and effort now will ultimately save you time and frustration in the long run!
The Website Test
Here's a little "homework" exercise for you to see whether or not you're avoiding some of these common website mistakes.
Pick someone you trust — a friend, colleague, or family member — to act as if they were an ideal client with the specific problem you solve. If possible, try to choose someone who fits your target audience profile as closely as possible.
Ask them to go through your website top to bottom, as if they wanted to hire you for a particular service, or buy one of your offers.
Ask them if you've been able to clearly communicate that you're the best person to solve their problem, and if they were able to find the best-fit solution for them among your offers.
You can prompt them with questions like:
"Was it easy to find an offer that matched what you were looking for?"
"Was it clear what the next steps were"
"Did you feel ready to take that next step?"
"Do you trust me to deliver this solution?"
"Is there anything else you wish you knew before booking?"
Take their feedback and use it to make changes or plan out the new flow of your website!
Website Copy Mistakes to Avoid: A Summary
As entrepreneurs, we're bound to make mistakes throughout our journey. But when it comes to your website, how to present yourself and your business through your copy can make or break your client experience.
Your website is often one of the first impressions you have on your audience, so why not make it an incredible experience?!
If you're ready for more tips on what to do (and what not to do) when writing your website copy, my Website Copy Roadmap can help. Click here to download your free copy.
Remember: effective website copy brings you one step closer to making an impact through your business. So have fun, get creative and enjoy every minute of your journey!