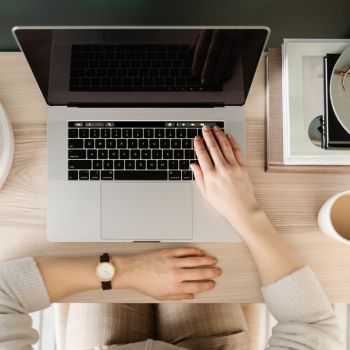 Thinking about updating your website content, and wondering if it's the right time? Let's talk about it.
As an online business owner, you already know that having a website that accurately reflects your business and that speaks to ideal clients is a must. You've seen it for yourself: strong website copy can truly transform the way that you generate leads and book sales in your business, not to mention help boost your visibility efforts.
But as your business grows and evolves, it's easy for your website content to become outdated or irrelevant. You're here because you suspect it's time for an update. But at the same time, you don't want to waste precious time making unnecessary changes.
In my experience of writing website copy for my clients and guiding DIY-ers through my website copywriting course, there are typically five clear signs that it's time to update your website copy.
By recognizing these signs and taking action, you can keep your website relevant, engaging, and effective as your business continues to grow and evolve.
If you prefer to listen than read, be sure to check out the podcast episode below.
So, without further ado, here are 5 signs (from a professional copywriter) that it's time to consider rewriting your website copy.
Sign 1: You're attracting wrong-fit leads
Do you often find yourself getting on sales calls or filtering through emails from leads who aren't a good fit for your business? Maybe they're in an industry that you don't serve, or their budget doesn't match up with your prices? If so, it might be time to take a look at your website copy and overall flow.
Attracting better-fit leads starts with zeroing in on a specific audience. Converting those leads usually comes down to your sales process — including your website copy.
Your website copy needs to speak directly to the pain points and desires of your ideal clients, making it crystal clear who you work with and how you can help them.
You can also save yourself a ton of time by making sure that your website copy contains all the information a reader needs to know to decide for themselves whether or not they're the right fit. We call this allowing the reader to "self-qualify".
Sign 2: Your business has pivoted
As your business evolves and grows, things are naturally going to shift. Maybe you've added new products or services, significantly increased your prices, or even changed the type of person you serve.
If you've recently made a pretty significant pivot in your business, it's important to update your website content to reflect those changes. This way, you're going to make sure that your positioning is up-to-date, and that you're showing your ideal clients exactly how to work with you.
For example, let's say that you recently changed your prices for your social media management services. While a monthly retainer with you used to start at $500, you're now only taking on clients who have a monthly budget of $1,500 or more. Those two audiences have very distinct problems and needs, and your website copy needs to shift to speak to that reality.
Sign 3: You're constantly being asked, "How do I work with you?"
There's no better feeling than getting a message from a potential client. But constantly having conversations about your offers can be time-consuming and frustrating, especially if you find yourself repeating the same information over and over again.
This is another sign that it's time to update your website content. By clearly outlining your offers and services on your website, you can eliminate the need for these drawn-out conversations and make it easy for clients to understand how to work with you — without waiting for you to respond to their DM or email.
Updating your website copy means that all the important information about your offers and services lives in a single place. Instead of explaining everything to every inquiry, you can simply share a link to your website, which will do all of that heavy lifting for you.
This not only saves you time, but it also simplifies the process for your potential clients — and you're delivering a stand-out experience from day one!
Sign 4: Your website doesn't feel like a reflection of you
Your website is often one of the first contact points between you and potential clients, and is incredibly important when it comes to closing that sale. So, it's incredibly important that it reflect you, your brand, and the quality work that you do.
Your website offers a great place to build a relationship with your audience, and we can deepen that connection by using language that feels authentic and genuine. If your website feels disconnected from who you are and what you have to offer, you're missing out on that positive first impression.
Updating your website content also helps us make sure that things are consistent, which is essential in building that know, like, trust factor with potential clients.
Sign 5: Your website isn't converting
Let's say that your website is getting some pretty decent traffic. That's great! It means you're doing something right with your marketing and client attraction. But if website visitors are dropping off before they can become leads, bookings, or clients, it it might be time to make small strategic updates to your website content.
It's very likely we need to update your website content, your messaging, your positioning, or even the layout of your website (or all of the above!). Even some subtle, minor updates can save you from losing potential clients.
(If you're struggling to get website visitors, it's important to look at your marketing efforts first for ways to increase your website traffic.)
Next steps for updating your website content
Our businesses are constantly growing and evolving, and its important that our website not get left behind with those inevitable changes! You don't have to be constantly tweaking your website, but it is important to make some key updates to your website content over the years.
If you resonate with any of these signs, it's probably time to make some changes — and I can help! My free Website Copy Roadmap walks you through the most important steps to updating your website content, so you know exactly how to move forward.
By recognizing that it's time for a change and taking action — however small — you're already on the path to booking more perfect-fit clients from your website copy. Remember: your website is a 24/7 salesperson for your business, so make sure that it's always working for you, not against you.