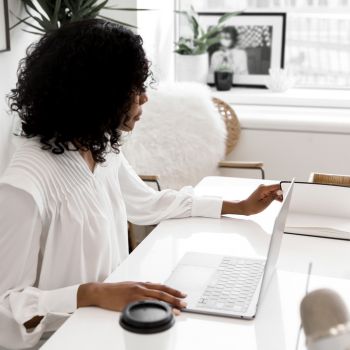 Want to write your own website copy? It may sound strange coming from a professional copywriter, but I personally think DIYing your website copy is a great idea, especially if you're a newer business owner who's still trying to figure things out.
While there's always a time and a place to outsource your copy, there's no shame in doing it yourself. In fact, if you're just starting out, I think it's important to write your own website copy. After all, why spend thousands of dollars on a copywriter if you're not crystal clear on your business foundations?
In this post, I'll explain why it's so beneficial to write your own website copy. You'll also hear from real business owners who have written their own website copy and the benefits they've experienced. And I'll share some tips and resources for getting started.
If you prefer to listen than read, be sure to check out the podcast episode below.
The Benefits of Writing Your Own Website
Writing your own website might feel a little bit daunting, but it offers an incredible opportunity for you to get crystal clear on your brand voice and message. Before I share some tips on how to get started, let's go over the many benefits of DIYing your website copy.
1. You connect with your audience
When you follow the correct steps for writing your own website copy (i.e. doing your market research and messaging work), one of the biggest benefits is that it allows you to understand your dream clients on a deeper, more psychological level.
Of course, any good copywriter will do this for you. But if you outsource your copy right away, you're missing out on the chance to develop that deep understanding for yourself.
Conversions start with connection, and connection starts with understanding. If you want to convert more dream clients with your website, you need to get to know them as well as you can.
"Since updating our website copy, now when people visit, they're staying and really exploring and connecting with our content," says Julie Connelly, co-founder of The Sleepyhead Coach.
Julie is a student of my website copywriting course, Strongly Brewed Websites (formerly Website in a Week), and used the process to really connect with her ideal client so she could generate more sales. After just three months, with the help of her new website, she was able double her business revenue!
2. You find your brand voice
Writing your own website copy also allows you to explore your writing voice and learn how to write content that feels and sounds more authentic.
A key step in writing your own website copy is to do a deep dive into your brand messaging. Getting clear on those aspects of your messaging will help you write content that resonates with you and the vision you hold for your business, while also connecting with potential clients on a deeper level.
"I had taken another copywriting course and written copy for my business, but it felt incomplete. It felt like I was missing something, but I didn't know what it was," says Danae Bloise, designer for plant-based businesses.
Danae used the framework I teach in Strongly Brewed Websites to find her voice and fill in those gaps in her copy. "Right away, it started clicking. I was able to write copy that felt authentic for my business. It helped me get to the essence of the most important things I needed to resonate with my target market."
The best part? Finding your brand voice has benefits that trickle down into almost every aspect of your business, especially your marketing. Your social media captions become more relatable, your emails are more likely to get read, and you can even bring more ease to your sales calls.
3. You gain confidence as a writer
Finally, writing your own website copy forces you to really dig into your wow factor. You have to get crystal clear on your strengths as a business owner and what makes you uniquely able to serve your clients, so you can write copy that really builds trust with potential clients.
Don't underestimate how hugely transformative this can be. When you start getting on sales calls with clients who are already a "hell yes" because of your website copy, or when you start getting compliments on your DIY'd website overall, the benefits trickle down to every facet of your business.
Michelle Pontvert saw this firsthand as she was going through my website copywriting program. "Working through this really helped me dive deep into what my niche was and get a handle on my messaging. It was helpful beyond just copy. It grounded me where I was with my messaging in general. I've had tons of compliments on my website since then"
Tips to write your own website
Want to start experiencing these benefits for yourself? Here is my best advice for a newer business owner who wants to DIY their website copy.
1. Don't do it completely alone
Choosing to write your own website copy doesn't mean you have to do it completely on your own. There are tons of resources out there to help you along the way, even if you don't have the budget for one-on-one copywriting support.
Rather than winging it or spending hours falling down the Google rabbit hole searching for advice, save yourself a ton of time by investing in professionally-created resources like website copywriting courses and copy templates.
While it does require a small financial investment, these resources can help you write faster and with much more confidence that your copy will actually connect and convert. You'll have a much better idea of what works and what doesn't, saving you valuable time and effort.
2. Do the pre-work
The best way to set yourself up for success when writing website copy is to prepare well. There is so much you can do before you sit down to write to make everything flow a lot easier.
In my experience, this comes down to three key steps: getting into the right mindset, doing your market research, and developing a guiding messaging strategy.
Mindset
Getting into the right mindset means setting a clear goal for your website copy and understanding what might cause writer's block to strike, even before it happens.
Take the time to sit down and think about what you want your website to achieve. Visualize your ideal audience and think about what you want them to think, feel, and do when they visit your site. This will help you create a clear direction and purpose for your website copy.
Research
You probably did some degree of market research before starting your business, but it's important to do fresh research ahead of any copy project.
Take a deep dive into your industry, competitors, and target audience. Find out what sets you apart from your competitors and what your ideal audience is looking for.
This information will help you write copy that speaks directly to your target audience, using language that resonates with them and showing them how you can solve their problems.
Messaging
Finally, developing a guiding messaging strategy will help you stay on track and keep your messaging consistent throughout your website.
I recommend getting crystal clear on the points you want to cover, the brand voice you want to take on, and exactly who you're speaking to. By having these elements in place before you sit down to write, you'll be able to write faster, avoid writer's block, and ensure that your website copy is consistent and effective.
Why Write Your Own Website Copy: A recap
At the end of the day, there is nobody better to write your website copy than you, especially if you're newer to business or pivoting. By writing your own website copy you're also learning how to develop crucial copywriting skills that are going to serve you for the lifetime of your business, even if you eventually start outsourcing!
That said, be sure to set yourself up for success. Get clear on the pre-work you need to do, and invest in professionally-created resources to get you there faster.
Remember: the world needs the magic that you offer, but they can only pay you for it if they know how to find you — and a website with great copy allows you to do that.