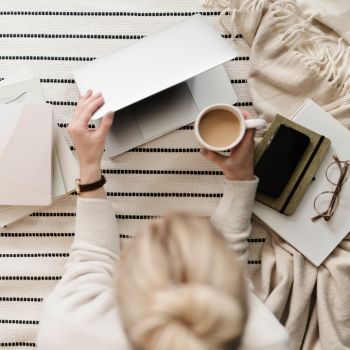 Wondering what pages your website should have as an online service provider? This guide can help!
If you've been relying on freelancing platforms and social media DMs to book new clients so far in your business, you've probably realized by now that there are a ton of benefits to having your own website instead.
But… where do you start?
When building a website for your service-based business, it's important to include certain key pages that will effectively communicate your offerings and establish credibility with potential clients.
From a homepage that captures attention to an about page that tells your story, here are the four most important pages your website should have.
Homepage: Introduce your business and your unique positioning
Your homepage is probably the single most important page on your website. I like to think of your homepage as the "welcome mat" for your business: you need to establish a great first impression, reassure your reader that they're in the right place, and make it crystal clear where to go next.
It's said that you have about 15 seconds to capture someone's attention before they leave your website — sometimes less! So, when planning your homepage copy, you need to think about the single most important thing you want to communicate to your reader and make sure that message appears front and center.
Your homepage should focus on the most important info your reader needs to know, and nothing else. Don't make it super long, and don't try to squeeze in half a dozen freebies and a long-winded bio.
What to include on your homepage:
An attention-grabbing headline. Your headline should quickly and clearly explain what you do and who you do it for.
A call to action, directly in your "hero" section (i.e. at the top of the page). You want this to be both an action you want your reader to take and an action they're likely ready to take, even if they've just landed on your website.
A breakdown of your services. Briefly present each of the different ways of working with you, and explain the core outcome of each. You want the reader to easily self-select the best offer for them.
A short bio. Keep it concise by focusing on the parts of your story that will resonate most with your reader.
Social proof. This often looks like client testimonials, a logo banner showing the places you've been featured in, or both!
About Page: Share your story and build rapport
As a Kindergarten student, my teacher (Mlle Wagg) taught me an important lesson: "Always focus on the big parts first. If you save them for last, you won't want to do it."
Somewhere down the line, someone probably taught you the same thing: it's always better to get the 'big parts' (the things that challenge you) out of the way first, when your mind is fresh. Then you can focus on the things that come easier to you.
For most business owners, writing their About Page is the most daunting part of the website copywriting process — which is exactly why I recommend starting here.
Your website visitors need to know who you are. In fact, some potential clients will only reach out to you if they already have a deep sense of who you are, what your experience is, and whether your values align. And that's where your About Page comes in.
This is where you can share your story, mission, and values, as well as introduce any team members. Make sure to highlight any relevant experience or qualifications you or your team members have on this page, as this can help establish credibility and expertise in your field.
What to include on your about page
A headline that lets the reader know they're in the right place. The first section of your about page should be all about the reader, not you. Use the headline to create connection and make them feel understood.
A brief introduction or elevator pitch. Some people will only scroll through your about page until they hit a bio and then they'll move on. Make sure to have a concise statement that sums up who you are, what you do, who you do it for, and why you're the best person to do it.
Your story. Tell your reader the story about how your business came to be, and make sure that it has a beginning, a middle, and an end. Don't forget to use headings to chop up the text for better readability.
A call to action. If someone's taken the time to read your entire about page, don't make them scroll all the way back up to your menu to take the next step. Decide on the most important next step you want your reader to take and create a clear call to action asking them to take it.
Services Page: Clearly outline your offers and how they can benefit potential clients
This should come as no surprise, but as an online service provider it's crucial to have a services page — also referred to as a "work with me page" or a "hire me page".
To start with, you'll likely want to list out all of your services on a single page. Eventually, as your packages and product suite grow and evolve, you can stick with a brief statement for each service with a link to a sales page for more information. (You can check out my copywriter services page for an example.)
Whatever approach you choose, it's super important to keep the information clear and concise. Address your reader's pain points, talk about the transformation you provide with your services, and clearly lay out the next steps they need to take if they want to hire you.
What to include on your services page
The reader's pain points. Acknowledging the problems your reader is facing is the easiest way to make them feel understood.
The features of your services. What are the tangible aspects of your offers? What does your client actually get when they invest in your services?
The benefits of those features. Don't simply list out the features of your service. You also have to explain why those features are important. How is your client going to benefit from each particular deliverable?
Social proof. Most readers will want to see proof of your work before reaching out, so be sure to pick testimonials and case studies that really speak to the value of your services.
A call to action. Seeing a common thread here? You need to clearly spell out the next step that your reader needs to take to get the conversation started. You can:

Redirect them to a contact form where you can gather more info. You can use a simple contact page or a more sophisticated tool like Dubsado (affiliate link).
Redirect them to a checkout page where they can pay a deposit for your services, using a tool like Thrivecart (affiliate link).
Redirect them to a calendar where they can book a call with you. Again, Dubsado (affiliate link) is a great tool for scheduling calls.
Contact Page: Help the reader get in touch
The Contact page is a crucial page for any service-based business website. Don't assume that they're going to find the lead form you've embedded on your services page.
With your contact page, it's important to provide multiple ways for visitors to get in touch with you. I recommend including both a contact form and an email address.
Your next steps
The most important step you can take when writing your website is to just get started.
Having a website gives you more power over the conversation you have with potential clients. It can help you not only attract more clients but also better-fit clients — in other words, clients in your niche who can actually afford your services.
The above tips should help you start to get an idea of what to include on each page of your website, particularly your homepage, about page, services page, and contact page. But, if you're looking for some extra guidance on writing website copy that connects with and converts dream clients, check out my free Website Copy Roadmap. It walks you through the most important steps to take before you start writing your website content, so you can write better copy in less time.